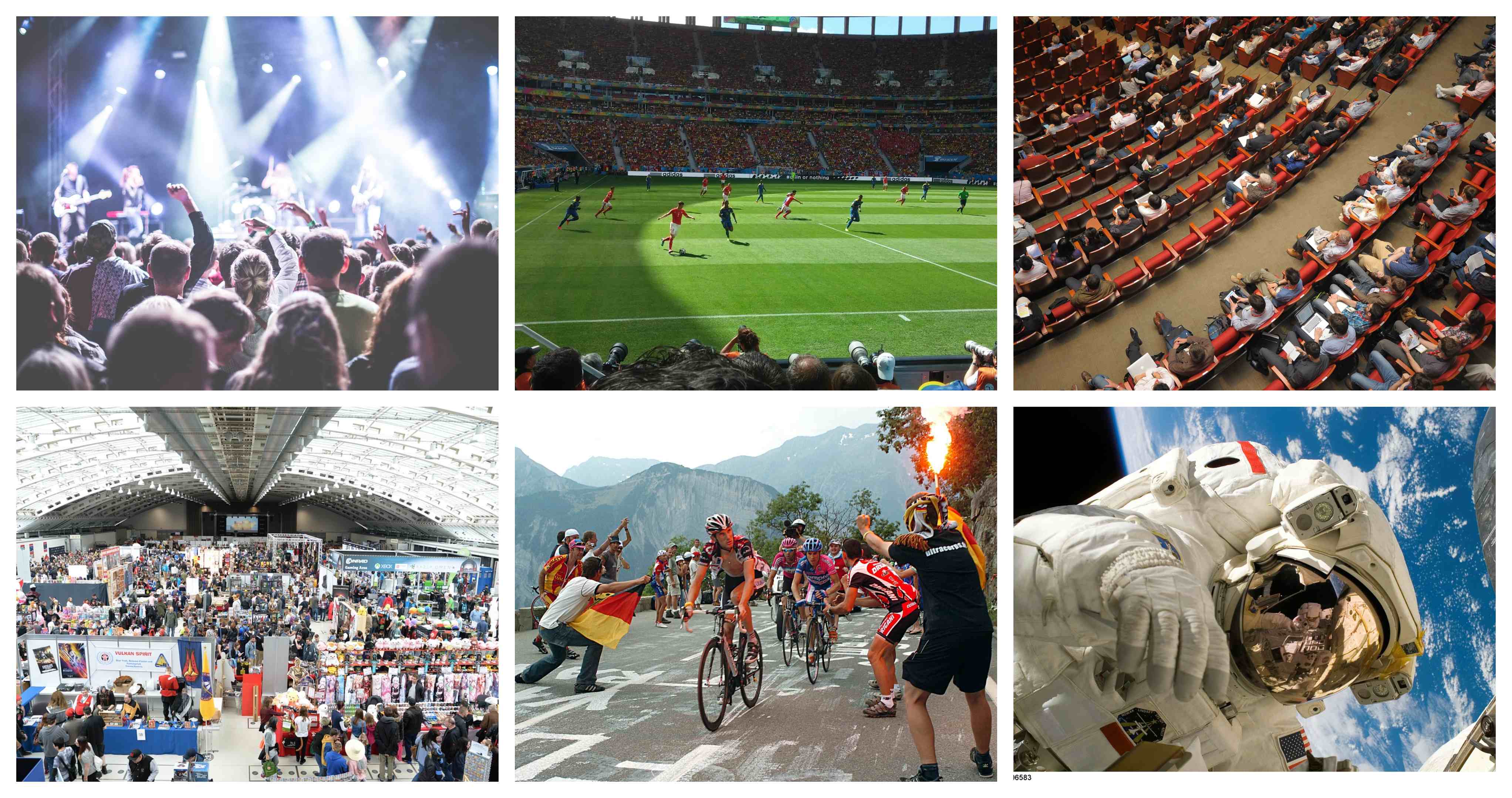 The Highly-Anticipated Events You Should Live Blog this Summer
by Clare Charlesworth  |  May 30, 2018
From international sporting competitions to decisive elections, there are many highly anticipated events taking place this summer. Some of the events will be over in a flash, making a live blog's ability to produce real-time updates an asset. Others, such as the Edinburgh Fringe Festival, will take place over several weeks and are perhaps more suited to a 'slow blog', which offers updates on a topic over longer periods of time.
To help you keep track of everything going on this summer, we've compiled a list of diverse, live-blog-worthy events. If you'd prefer to see this list in a different format, click here to download it as an Excel calendar.
Arts & Culture
Comic-Con (19 – 22 July)
Held in San Diego but followed eagerly by many all over the world, Comic-Con aims to promote an appreciation of comics and pop culture. In recent years, the four-day event has seen attendance exceeding 130,000 and even holds the Guinness Book of World Records as the largest annual comic and pop culture festival.
Edinburgh Fringe Festival (3 – 27 August)
From jazz concerts to stand-up comedy to Rocky Horror performances, there's no shortage of things to live blog about at the largest performing arts festival in the world.
Eurovision Young Musicians (18, 19 & 23 August)
Part of the Eurovision Family of Events, this music competition consists of performances by young musicians from 18 European countries. If you're looking for a blueprint, the Eurovision Song Contest recently teamed up with Live Blog to produce an engaging live blog for fans all over the world.
Venice Film Festival (29 August – 8 September)
Established in 1932, this year's Venice Film Festival will celebrate its 75th edition. Being one of the most prestigious film festivals in the world, many eagerly look forward to finding out who the winners of each category are.
Sports
FIFA World Cup (14 June – 15 July)
Every four years the FIFA World Cup takes place, captivating soccer fans all over the world. As is the case for many other sporting competitions taking place in the summer of 2018, Live Blog's free sports theme is well-suited to covering the FIFA World Cup, with the theme including play-by-play commentary, scorecards and the production of statistics in both charts and percentages.
2018 Wimbledon Championships (2 – 15 July)
This prestigious tennis championship will take place over the course of two weeks at the beginning of July. The BBC has reported that for last year's Championships it had 24.1 million stream requests via BBC iPlayer and BBC Sport – just one indication of the large demand for online access to coverage of the tennis matches.
Tour de France (7 – 29 July)
First organised in 1903, this multi-stage race takes its cyclists, and the many viewers who follow passionately from home, all over the French countryside.
Formula One, British Grand Prix (5 – 8 July)
This year will be Silverstone's 70th anniversary as host of Formula One's British Grand Prix. To celebrate this milestone, throughout the weekend, Silverstone will also have numerous concerts and other entertainment for racing fans to enjoy.
Athletics World Cup (14 – 15 July)
This year's Athletics World Cup will be held in London and will see eight of the world's best athletic nations competing against each other for the Athletics World Cup trophy and the $2 million prize that comes with it. While lasting only two days, the Athletics World Cup will consist of 34 track and field events with 102 individual medals also being up for grabs.
European Championships (2 – 12 August)
This will be the first ever European Championships: a multi-sporting event held in both Glasgow and Berlin over eleven days. Organisers expect there is a potential television audience of 1.03 billion people, with additional millions looking for other digital platforms to receive updates.
18th Asian Games (18 August – 2 September)
Also known as the Asiad, the Asian Games is the second largest multi-sport competition after the Olympics. Alongside more "typical" sports, this year's competition will see eSports being played for the first time, with plans for it to become an official medal sport at the 19th Asian Games in 2022.
Political Events
Summits
44th G7 Summit (8 – 9 June)
To be held in Canada this year, the G7 Summit brings together world leaders from France, Germany, Japan, Italy, the UK, the US and Canada to discuss important issues currently at play in the world.
US – North Korea Summit in Singapore (12 June)
President Donald Trump and the North Korean leader, Kim Jong-un, are set to meet in Singapore for a historic summit on 12 June. Since the details of this meeting seem to change every day, the summit is well suited to live blog coverage as they offer bloggers a simple, fast updating tool, and readers an easy-to-follow stream of information concerning an important event.
Elections
There are many elections scheduled to take place this summer, the speculated outcomes of which change almost daily. Due to the unpredictable nature of these elections and the ever-changing circumstances surrounding them, live blogs are an ideal match for coverage. Live blogs are able to offer readers real-time updates as the results become available through a wide range of multimedia, including different infographics showing the results of the elections.
For tips on how to successfully live blog an election, have a read of our blog post.
Some of the many elections taking place include:
Colombia's Presidential Election (With the first round on 27 May producing no clear majority, Colombia's presidential election moves into a runoff with the second round taking place on 17 June.)
Mexico's General Election (1 July)
Pakistan's General Election (25 July)
Sweden's General Election (9 September)
US 2018 Midterms (6 November)
While taking place in autumn, there's no need to limit your live blog coverage of the US 2018 Midterms to just election night. Many news organisations have begun to use Live Blog as a slow blog, which allows for coverage of a specific topic over longer periods of time.
Conferences
A conference might not be the first thing that springs to mind when considering what events might suit live blog coverage. However, there are many advantages that come with putting the two together. Covering a conference with a live blog can increase audience participation and social media coverage of your event, and by archiving your blog, you'll have an easy-to-read, comprehensive document detailing the conference. To find out other ways in which live blogs can be used to cover conferences, be sure to read our post.
With so many different conferences taking place, we've whittled it down to a couple focusing on journalism and media that you might find particularly interesting:
The GEN Summit 2018 (30 May –  1 June)
This year's Global Editors Network (GEN) summit will take place in Lisbon, Portugal, with the overall theme of this widely attended meeting being 'Towards the Augmented Newsroom'. For a better understanding of the GEN summit, see our interview with GEN CEO, Bertrand Pecquerie.
World News Media Conference (6 – 8 June)
Featuring many different speakers, including prominent publishers, chief editors and CEOs of different media organisations, the World News Media Conference is held annually to discuss the sustainability of the media industry and media freedom. This year's conference will be held in Estoril, Cascais, Portugal.
Global Media Forum (11 – 13 June)
'Global inequalities' is this year's theme for Deutsche Welle's Global Media Forum, an international media conference that brings together a wide range of fields including journalism, politics and academia to discuss pertinent issues facing journalism today.
Science
World Science Festival (29 May – 3 June)
Bringing together both the general public and some of the brightest scientific minds, the 11th World Science Festival aims to make science more accessible by taking it out of the lab and placing it into 'the streets, parks, museums, galleries and premier performing arts venues of New York City and beyond'.
NASA (Launch Window: 31 July – 19 August)
NASA's Parker Solar Probe is scheduled to be launched this summer. Travelling through the sun's atmosphere, this will be the closest contact any spacecraft has made with a star.
What events are you planning on live blogging this summer? Let us know by using the hashtag #liveblogthissummer
Click here to download this list as an Excel calendar.