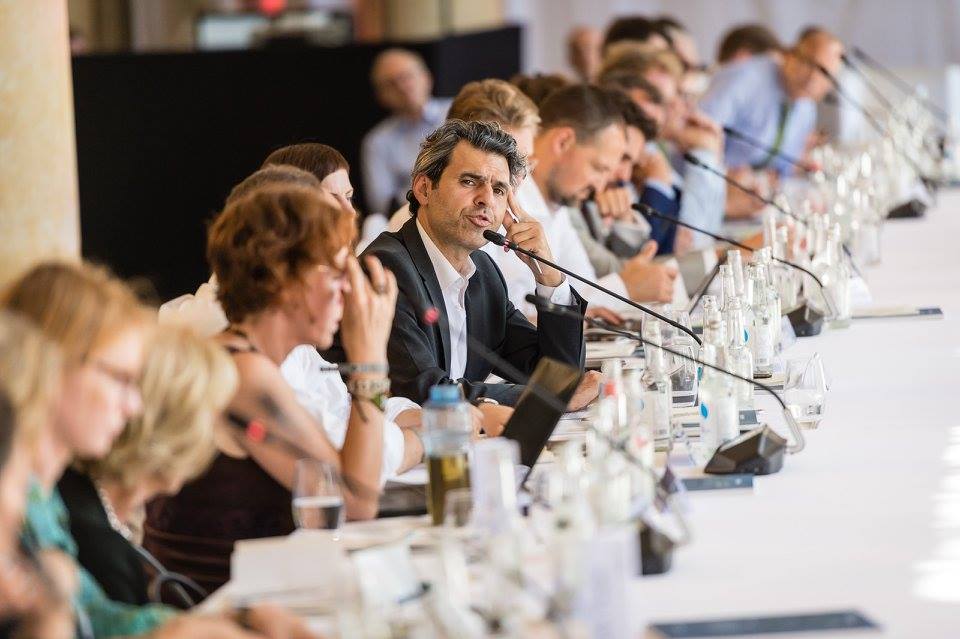 Top 6 Tips on How to Live Blog Your Next Conference
by Gideon Lehmann  |  Apr 25, 2018
Here is the good news before you start: Covering your conference with Live Blog is a natural fit. Expect increased user engagement, great social media coverage and easy event-documentation coming out of it. All things you probably already have to take care of but with Live Blog it will be easy to do with just one tool. And with the tips below, we hope your first post will be even easier.
#1 Choose your target audience
With Live Blog you provide minute-by-minute updates of your event to your audience. Now let's take a moment to think about your target audiences. Live Blog can perfectly be used for both internal and external communication: people not attending the conference can follow the discussions and keynotes on the conference website and even participate by commenting on the live coverage. But apart from this rather classic use-case, Live Blog can also play a good role in engaging the participants of the conference itself. Screen your Live Blog right into the conference room and notice how the visibility of the key arguments to the participants has a positive effect on the discussion itself.
#2 Build a team
Do you have someone in the team taking care of social media and someone doing press relations or dealing with the website? Here you go! Live Blog will actually save them time to reach their goals and have a better audience engagement and outreach. However, live blogging might be a new tool in your communication toolset and building a live blogging team with clear responsibilities is key to a successful live coverage of your event. No matter if there is only one person taking care of the live reporting, a team or if you decide to turn your conference participants into reporters – make sure to clearly assign your team members to the following roles:
Who is responsible for the blog as a publication?
Who can publish to the timeline and who is just contributing?
Who takes care of the social media coverage and is curating the reader comments?
Once you've done that, your coverage will be a smooth operation and a great success!
#3 Prepare well
Live is live and when things are moving forward time is what matters and you will feel great if you can rely on a well-prepared coverage. Here are some suggestions on what you might typically need:
Ahead of an event set up your Twitter search (and other social media channels) to monitor relevant accounts and hashtags. You can also prepare your first social media posts based on the results of your research and schedule them to be published during the coverage.
Prepare posts introducing the speakers of your conference. At the beginning of a session keep it at hand and publish it.
Store your images in a folder available to everyone
In case your blog is sponsored by a media partner or other type of sponsor – make sure to set up a branded blog and prepare sponsored posts.
#4 Εngage your audience
Studies show that the likelihood of user engagement significantly rises during live events. As a conference organiser, you know this through tracking the trend of your conference hashtag during your event. Live Blog is your ideal partner here because you can both, highlight the activities in the social media by embedding them into your live coverage and make use of the comments feature of Live Blog, curate incoming user messages as well as make them part of your coverage. Another specific aspect, when using Live Blog for conferences, is that you can screen the Live Blog timeline in real time to the conference participants and make them feel particularly engaged seeing their quotes, tweets or comments appearing "big" on the screen.
#5 Publish internally and externally
A Live Blog is normally used to report to an audience that is not present at an event, in (almost) real time about what exactly is happening there. This way you can engage people who were not able to attend the conference, improve the impact of the conference's outcome and win new participants for your future events – so far so good. But with a Live Blog, you can also reach out to the participants of a conference directly and highlight the importance of their input by screening it on a big screen. This may even have a moderating effect on ongoing discussions in a conference panel: Live Blog sums up the discussion in a way that helps to avoid endless repetitions of arguments already made and shared.
#6 Archive your blog, document your event
Many conference organisers have to actually document the conference output and impact in order to report to their sponsors or initiators. Live Blog will help you with it and save a lot of time. If you cover a conference with a Live Blog you can archive the blog by saving it with the first post on top, emphasizing certain posts as highlights and pin a summary to it on top of the timeline. This way your live coverage becomes a Multimedia documentation of the event and by making use of the analytics feature of Live Blog you can even prove the impact by tracking and sharing the number of visitors on each and every blog.
Extra tip – Set up sponsored blogs
Live Blog is not only your partner when it comes to live coverages – it will also help you to monetize your efforts. In case you would like to offer an attractive package to your sponsors – Live Blog allows you to create branded versions of a blog. All you need to do is to create a branded output channel and apply the logo and corporate color of your sponsor to your blog. How many sponsors do you have – with Live Blog you can create as many branded versions of the blog as is needed for your business. Happy live blogging!