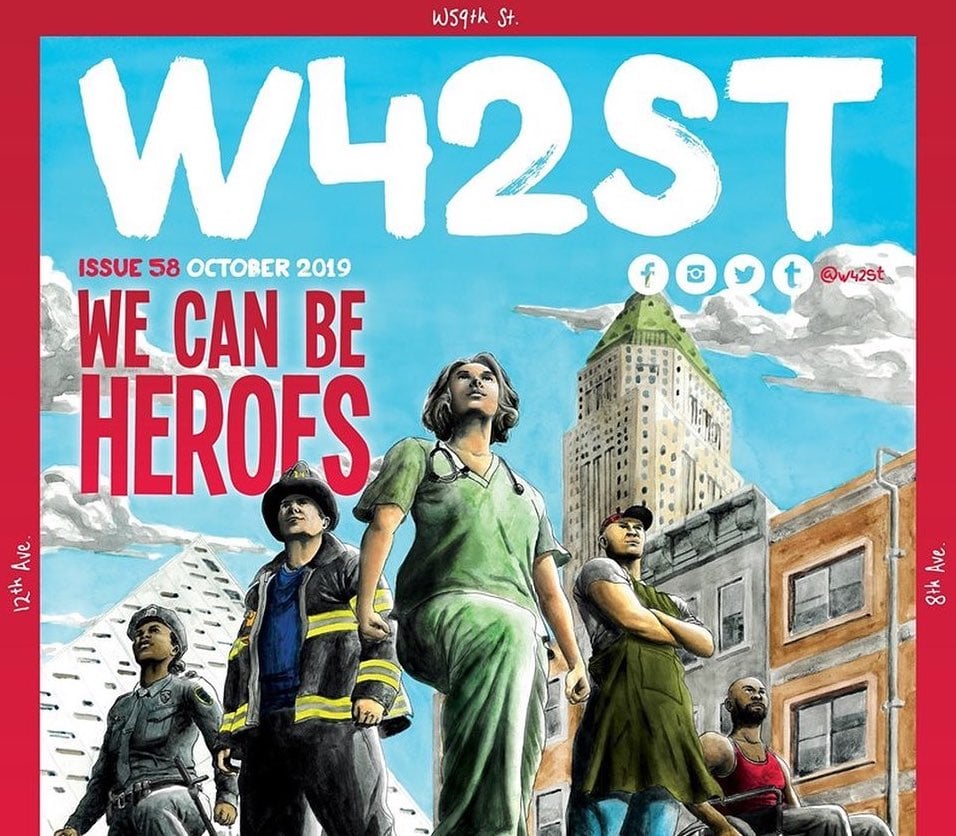 CASE STUDY
W42St: How an Indy NYC Print Magazine is Using Live Blog to Build a Community and Connect Readers
by Todd Jatras | May 5, 2020
When the coronavirus pandemic abruptly forced New York City into lockdown mode in March 2020, businesses across the spectrum had to radically reduce operations and shift strategies in a bid for survival.
Live blogging turned out to be part of the solution for one independent publisher based in a historically gritty part of Manhattan. W42ST is a monthly independent lifestyle magazine that prides itself on the "fierce, pioneering, no-bullshit attitude" characteristic of the Hell's Kitchen neighbourhood (the area west of Times Square-42nd Street) it covers. Founded five years ago by British transplant Phil O'Brien, a former press photographer and entrepreneur, W42ST had built up a healthy print run of 30,000 and established itself as a community-building force through a combination of social media outreach and live events.
The Challenge
By Friday the 13th of March, with most of W42ST's advertising from area businesses such as Broadway theatres, restaurants, coffee shops, gyms, bars and liquor stores having suddenly evaporated, O'Brien had to make the difficult decision to put the brakes on the print edition just as the much-anticipated annual Best Of issue was getting ready to go to press.
For a magazine whose mission is to "connect people and help them live their best New York life, in real life" the issue was not so much being able to publish in print as being able to serve readers during a time of social isolation.
O'Brien didn't hesitate to take the digital leap
The Solution
With most businesses in the community reeling and readers stuck at home, O'Brien realised that shifting to a daily, digital publishing rhythm was the best way to keep readers connected to each other as well as informed about developments that seemed to be changing by the hour.  
Along with a new daily newsletter, Live Blog is the main element to this change of digital publishing strategy. W42ST's new FACES section is a live blog featuring short videos sent in by readers and local business owners reporting on their lives under quarantine and the latest developments in the neighbourhood. Beyond a means of publishing survival, the FACES live blog has been a chance to expand coverage while strengthening the bonds within an already well-established community.
The Results
W42ST's FACES is an exemplar of how live blogging can be used to bring together and connect a community, even during normal times. O'Brien loves the versatility of Live Blog, especially its ability to easily ingest content from all the different social media platforms, saying:  "Live Blog is great because it's so easy to upload a variety of YouTube and Instagram videos–and they play flawlessly within the blog".
 The dozens of videos featured so far on FACES form a fascinating, intimate and constantly-changing portrait of a strong community coming together to cope with an unprecedented situation. They are equally informative and entertaining, and full of tips on everything from local kitchens doing deliveries to an artist giving away the masks they've made in exchange for fabric donations. Local business owners, even front-line medical workers, make appearances to give updates, while residents drop in to share the joys and frustrations of their day, or sing a song, show off their pets, or recite poetry.
 Looking ahead to life after the lockdown, O'Brien hopes to expand W42ST's blogging activity beyond FACES, and has applied for grants from Google and Facebook's local news initiatives with the hope of hiring a dedicated blog editor. About Live Blog, O'Brien adds, "You've built a great product".