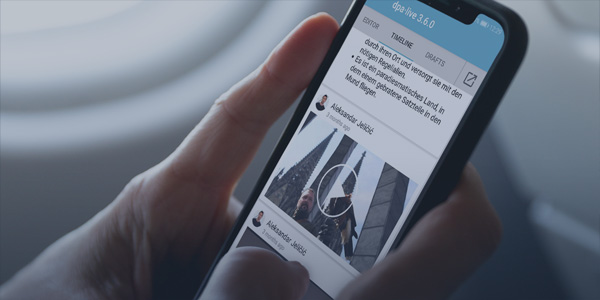 Key Features of the Live Blog Reporter Mobile App
by Todd Jatras |  Aug 7, 2019
Today's journalists are on the move more than ever and require as much flexibility as possible in publishing their coverage of live news events. That's why we've updated our Live Blog Reporter app with new features designed to enhance the blogging experience, and for greater integration with newsroom workflows.
If you're new to Live Blog, you'll still need to set up your blogging presence on a computer, but after that quick process, most reporting tasks can be handled with ease from a mobile device.
Download the Live Blog Reporter App (newly updated for Android and iOS) onto any connected mobile device and you'll be able to effortlessly manage, publish and edit all of your blogs while on the go.
Let's have a look at the great new features:
Reporter now supports direct-to-YouTube video uploads, which will expedite the video-posting process, making videos shot in the field immediately accessible to your whole team.
Another cool feature: posts can be saved as offline drafts and published later, a useful option when working in areas with limited or no internet connectivity. Journalists' posts can either be published directly or sent to editors for approval.
Additional updates:
App users can now access their Live Blog timeline to edit existing posts
Users can pin and highlight posts directly in the app
A new post type for coverage of sporting events (availability of this feature depends on the user's subscription plan)
A faster log-in process. In the past some users had to insert a specialised URL like dpa-api.liveblog.pro in order to log in. Now, after we updated to the new version, this -api was deprecated, and they just need to insert the instance name, i.e dpa.liveblog.pro