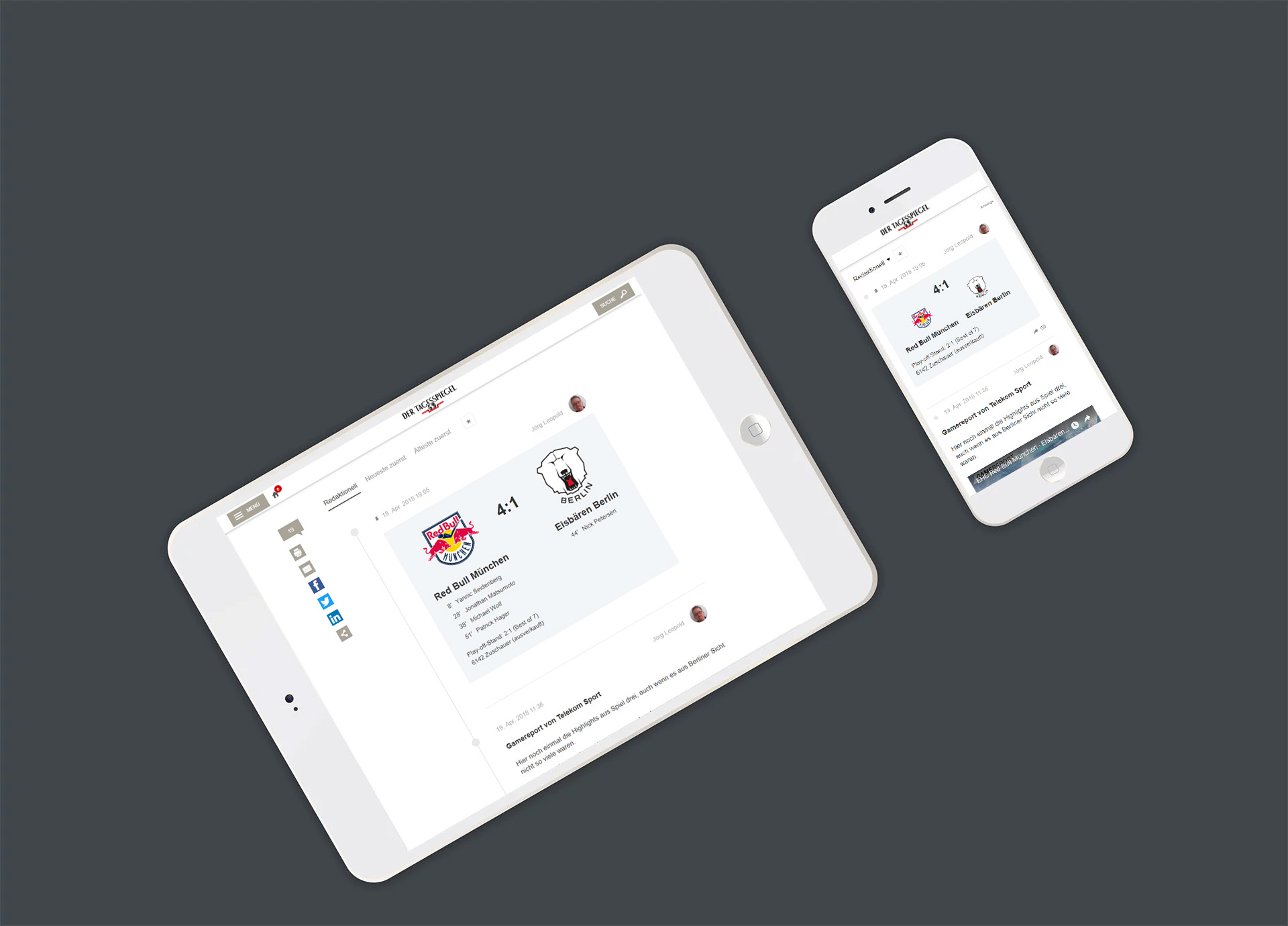 Featured Live Blog: "Eisbären Blog"
by Julia Vernersson  |  Apr 19, 2018
The Liveblog "Eisbären blog" follows the Berliner Ice Hockey team Eisbären since August 2014. We checked in with Tagesspiegels Jörg Leopold, one of the three-men-team behind the Eisbärenblog about their live coverage from the ice rink.
What makes the Eisbären Blog so special?
The mixture of content: we cover the live games, of course, but we also blog about the training, as well as publish photos and conduct interviews exclusively for the blog. The Eisbären blog is a niche product for a very special target group. Currently, we have at times more than 100.000 readers. We never thought that we would reach so many, but our content is exclusive and cannot be found in the printed newspaper Tagesspiegel. With this content, we go far beyond the normal club coverage: not just focusing on the Eisbären, but looking at the fascinating sport of ice hockey as a whole.
You run a seasonal blog including game reporting. Why did you decide to do so?
What sports are all about, is games. We soon noticed that the live coverage is very well received by the audience. And so together with all the background info, which we are continuously providing to our readers, this became a special service we offer.
Live is live: what's the craziest thing you've experienced in the live blogging of the games?
In the important seventh quarterfinals of in the 2015/16 season, in which the Eisbären played against Cologne, the laptop stopped working shortly before the end. The game ended an hour later and nobody scored. Nevertheless, this was of course extremely frustrating because reporting via the mobile app is not quite the same.
How does Sourcefabric's Live Blog support you in running a good liveblog?
Through the mobile app you are more or less always online, even on the go. If I speak with the players in the mixed zone or during a press conference, I can update the information directly on the blog. This is the real live blogging. Our scoreboard is also very practical: the score is what you are after in a hockey game, to grasp that immediately is important to the reader.
What do you wish for the Eisbären and the blog in the future?
The Eisbären made it to the final this season, if they also win the title, we can call ourselves the Championblog! As for Sourcefabric, I wish that we could soon be able to add our own videos built-in directly into the blog – the way it is currently possible to do with images.
Note: The Live Blog team is working on adding the functionality of uploading own video content in the Live Blog. The update is scheduled within one of the next releases in Q3 2018.