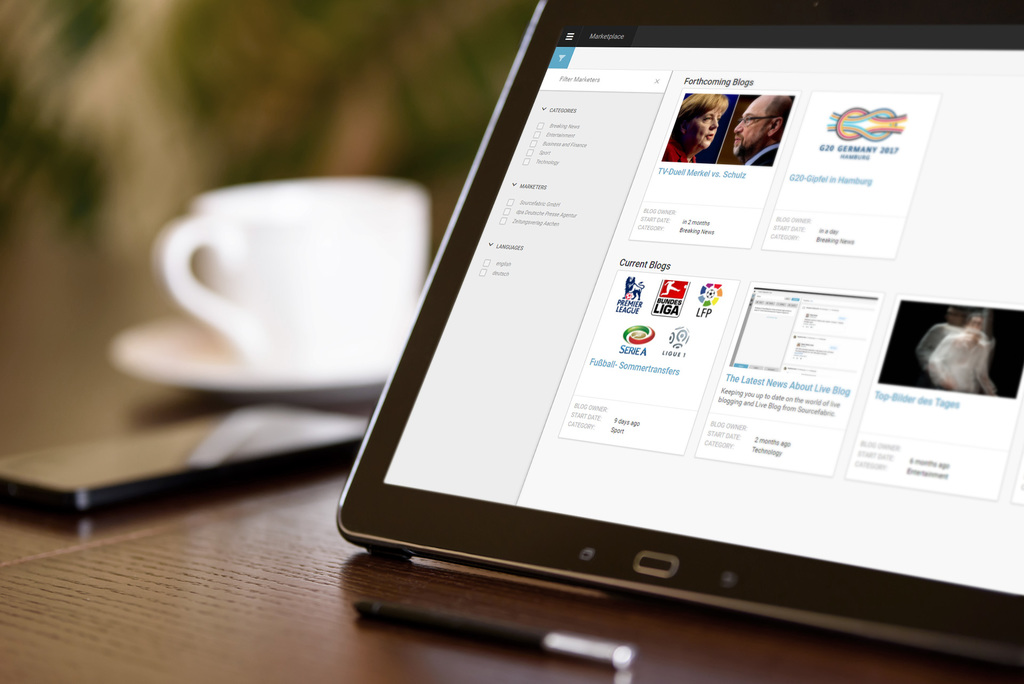 Buy, Sell and Share: Live Blog's New Marketplace
by Anthony Covalciuc  |  Jul 5, 2017
Want to do more with real-time content? The Live Blog marketplace from Sourcefabric is a whole new way to discover live coverage and to take more control of the content you publish and share.
Our new B2B marketplace is the latest milestone in the ongoing Live Coverage Ecosystem project, which has been cofinanced by the Google DNI Innovation Fund. Our first content partner in the Live Blog marketplace is dpa, Germany's leading press agency. Interested in the live coverage of the G20 summit in Hamburg? Or the upcoming federal elections in Germany? You´ll find them fresh from the dpa on the Live Blog marketplace.
How does the Live Blog Marketplace Work?
The Live Blog Marketplace is like a shopping gallery for live content. More specifically, it's a web app for Live Blog users to find and exchange each other's live coverage of events such as sports matches and elections.
In the app, you can preview blogs on subjects ranging from entertainment, technology, business and finance, to breaking news. Just click on a blog that interests you to browse the content. If you like what you see and want to use that live coverage on your own site, you have two basic options.
Option 1: Use an embed code to publish external content
Just like including a web URL or video link in your blog, you can use an embed code to publish live content from a live blog provider within the marketplace. With an embed code, third-party or external content appears in its own styling and format on your website. And it works the other way too: if other news organisations embed your live content, it appears on their site entirely as you created and published it.
Using the embed code is a good option for one-off exchanges of content, or if an editor doesn't want to make any further changes to the external content they include on their own site.
Option 2: Syndicate external content and publish it natively
Syndication adds a powerful bonus for editors looking for live coverage feeds as a source of their own news. Essentially, syndication provides a more flexible way to retrieve and output content. You can subscribe to live coverage from an external blog and publish it on your site in your own format and design — as though it were your own content. You can even make changes to the content itself. Syndication gives you full creative control of the content you publish, while also providing a native look and feel to the third-party content that appears on your website.
Syndication for live blogging is best-suited to an ongoing relationship, such as local or regional news outlets subscribing to a national news agency's content feed (although in theory syndication can work in both directions).
Discovering and sharing the latest live content has never been easier
Whether you choose to use the Live Blog marketplace as a boutique for specialty items or as a wholesale outlet for the full range of live coverage is entirely up to you. Either way, finding more real-time news coverage has never been easier — or more flexible. Joining the marketplace is completely free and open to anyone using Live Blog.
All you have to do to become a marketplace member is register as a provider with Sourcefabric to make your content available. To publish another provider's content, just get in touch with that provider. The terms of use, such as pricing and fees, are decided upon between market members. In other words, Sourcefabric provides the marketplace, while members use it according to their needs.
Don't wait — live news is happening now! If you don't yet have your own Live Blog, start your free trial today. Or, if you're already using Live Blog, contact us to find out more about the Live Blog marketplace.